Alliant Castings takes special pride in its people, and has invested significantly in attracting and retaining a highly skilled workforce. Our team works like a pit crew, combining precision and speed to get the job done right, and right on time. Staff are generously rewarded and motivated by positive recognition for achievement.  Through continuous on-the-job training and active management we have built a cohesive team with a single focus: delivering value to the client.
Our team members combine 142 years of industry experience and engineering know-how.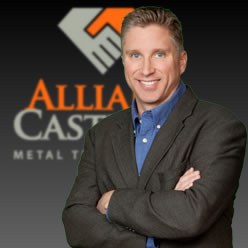 Tom Renk, President
Obtaining his BS degree from Iowa State University, Renk has 25 years of professional metalcasting experience. His casting career began at the American Foundry Society (AFS) as a Software Development Engineer. During his tenure at AFS he improved existing casting software, taught software related classes, and did contract solidification modeling. After 4 years at AFS, Renk worked as a Foundry Engineer for Maynard Steel in Milwaukee, WI. In 1995, Renk was hired by American Metalcasting Consortium (AMC) as an Applications Engineer. While at AMC, Renk worked with the United States Department of Defense and private defense contractors to optimize costs and casting processes of various military castings. In late 1996 Renk was presented with the opportunity to rejoin the family business, United Machine and Foundry (UMF) as a Foundry Engineer. During his 15 year career with UMF Renk has held various positions including foundry engineer, technical manager, operations manager, sales manager and his current role as president.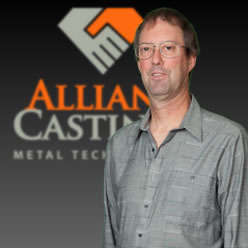 Perry Kamrowski, Foundry Engineer
After going to Winona State studying pre-engineering Mr. Kamrowski went to the University of Minnesota obtaining a bachelor of Civil Engineering degree. Mr. Kamrowski's foundry work started 2 years after this at United Machine and Foundry (UMF) in 1983 working in the cupola area. During his 32 year career at UMF Mr. Kamrowski has worked in many positions quality manager, furnace operator, production coordinator, and foundry engineer. Mr. Kamrowski is a member of the AFS 5D committee. His outside hobbies are volleyball and softball.
Stacy Hill, Accounting Manager
Stacy graduated from Southeast Technical College in Winona, MN in 2006 with an associate's degree in Accounting. Before graduation, she accepted a position at the college in their accounting office and worked there for 7 years before coming to Alliant Castings. She began employment with Alliant Castings in early 2013.
Stacy is married to Brent and they have two children. She enjoys spending her time with family, and staying active.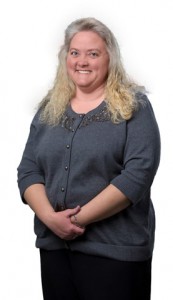 Kathy Borck, Customer Service
Kathy is a graduate of Cotter High School and Southeast Technical College in Winona, MN with a General Secretary degree. She has worked in Customer Service in the Foundry industry for over 20 years. Kathy worked at Brom Foundry in Winona MN for 12 years and Midwest Metal Products for 3 years, before joining Alliant Castings for the past 10+ years.
Kathy enjoys spending time with her family; her husband Mark and children, Marcus and Emily. She also enjoys photography, scrapbooking, camping, and reading. Kathy is also a big Green Bay Packers fan and loves horses.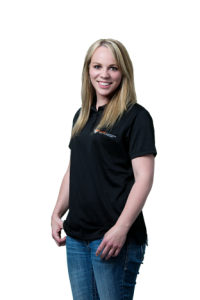 Jamie Burt, Sales and Customer Service; NorthStar Blast Solutions
Jamie attended South East Technical College in Winona, MN and Rochester Community and Technical College in Rochester, MN before opening and running her own business for roughly 5 years. Jamie has worked in customer relations for 13+ years. Jamie joined the Alliant Castings team in early 2015.
Jamie has two daughters and enjoys spending her time outdoors, with her family, and her three Mastiffs.
Marty Wolter, Plant Manager
Marty's Foundry career started out at the early age of 19. He gained knowledge and training in all phases of the business as an employee, and had a great desire to learn more. Marty supervised the Molding and Melt pour for 4 years before being promoted to Assistant Plant Manager. Within the next 5 years, Marty showed great strengths with Alliant Castings and was promoted to Plant Manager. Marty has over 20 years of experience in metal castings.
Marty's hobbies include four-wheeling, hunting and he also farmed on his own for 5 years.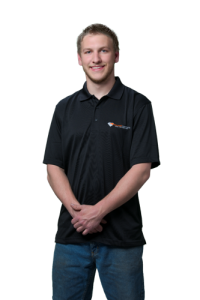 Travis Ungs, Plant Manager Asst./Maintenance manager
Obtaining his bachelor's degree in Composite Material Engineering, Travis interned at Alliant during his final year of school. Upon graduation he was presented with a chance to come on full time at Alliant as a process engineer. During his time with Alliant casting Travis has held various positions including: quality tech, no-bake molding, core room, melt lab, production coordinator, molding and core room supervisor and his current position as Plant Manager Asst./Maintenance manager. His outside hobbies include fishing and hunting.
Mark Johnson, Quality Manager
Mark, a graduate of Chippewa Valley Technical College in Eau Claire Wisconsin, has worked in the foundry industry for more than 20 years. He spent over 18 years at Badger Foundry in Winona MN employed in the Quality/Engineering department. Prior to that he was a Quality Technician for a zinc die-casting company in Decorah Iowa. Mark joined the Alliant Castings team in late 2015.
Mark has one son who he enjoys hunting and fishing with and other hobbies include running, biking, and considers himself an all-around outdoor enthusiast.