WINONA, Minn., Jan. 16, 2012 /PRNewswire/ — United Machine and Foundry, a metal casting foundry founded 125 years ago as Diamond Huller, today announced that it is changing its name to Alliant Castings.
CEO Tom Renk explains: "Our new name expresses our commitment to partner with clients to solve their engineering problems. We take pride in creating the toughest and most intelligent solutions in our field of wear-resistant parts."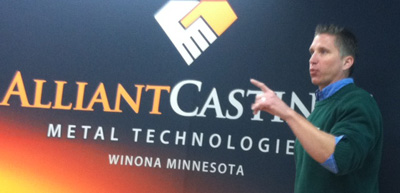 Over the past year, Alliant Castings has made significant investments in new technology and engineering capability. "It's more than an upgrade," Tom Renk explains. "It's about setting a higher standard in an industry that has grown stagnant in its practices. Metal casting today needs a fresh approach, using the best technologies available and the application of innovative thinking. That's what Alliant Castings is all about."
Metal casting has traditionally been seen as a "dirty" industry. One of the initiatives Alliant Castings has announced is its commitment to environmental stewardship. The company has coined the term "CleanCasting™" to denote its focus on minimizing pollution and waste.
Alliant Castings welcomes conversation with engineers nationwide on the design challenges of wear-resistant castings, and the firm is currently launching a program of specialist industry education.